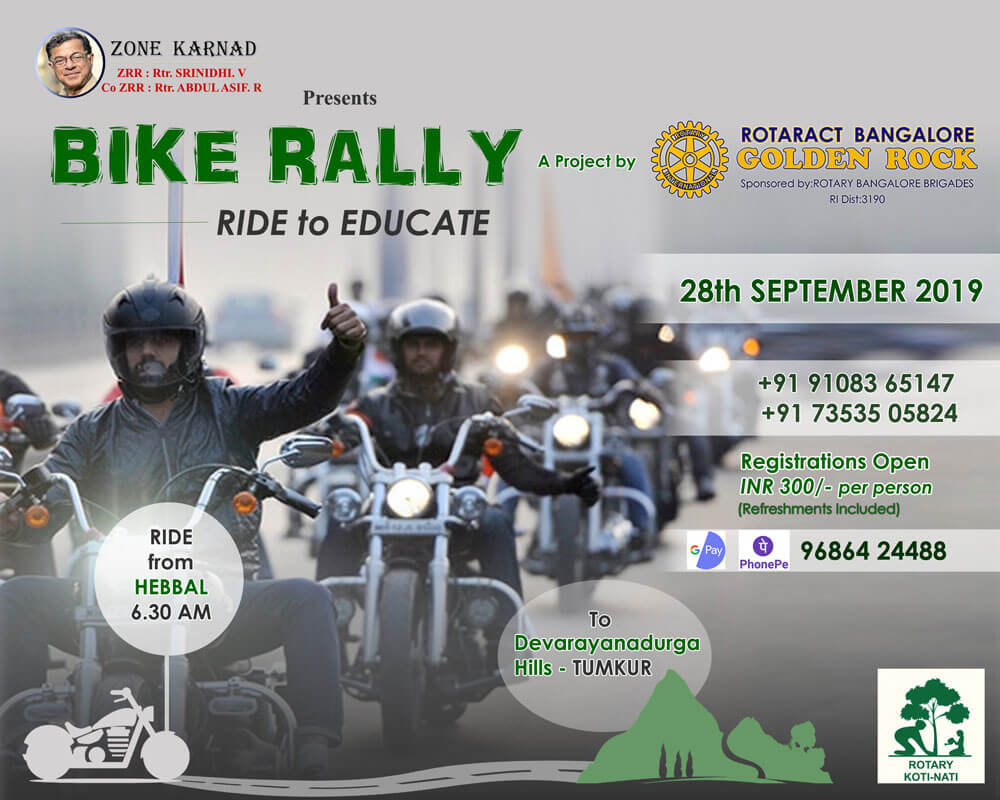 Rotaract Greetings. Rotaract club of Bangalore Golden Rock in association with Zone Karnad RID 3190, RC KSSEM ,RC The school of Ancient wisdom, RC Bangalore SouthWest, RC Bangalore Orchads presents BIKE RALLY (Ride to educate).
Come; Join us in the ride for a Cause.
Date: 28th September 2019 (Saturday) @ 6:30 am
MEETING POINT: Hebbala Baptist Hospital
RIDE to: Devnarayandurga Hills(Tumkur)
(A scenic location for the perfect weather and relaxing atmosphere)
Distance: 120Kms (2side)
Registration Amount : RS 300/- per head
Includes:
1)Badge 2)Certificate 3)Refreshments 4)Lunch
Contact:
Call/WhatsApp: Kiran- 7353505824 or Rakshith- 9108365147
Email: [email protected]
Instagram: https://www.instagram.com/rcbgoldenrock/
Thank You!!
Note -
If any club or organization happy to partner with us please feel free to contact Project Chair IPP Rtr Kiran S- 7353505824
Helmets for Rider and Pillion rider is mandatory, DL must for Riders.