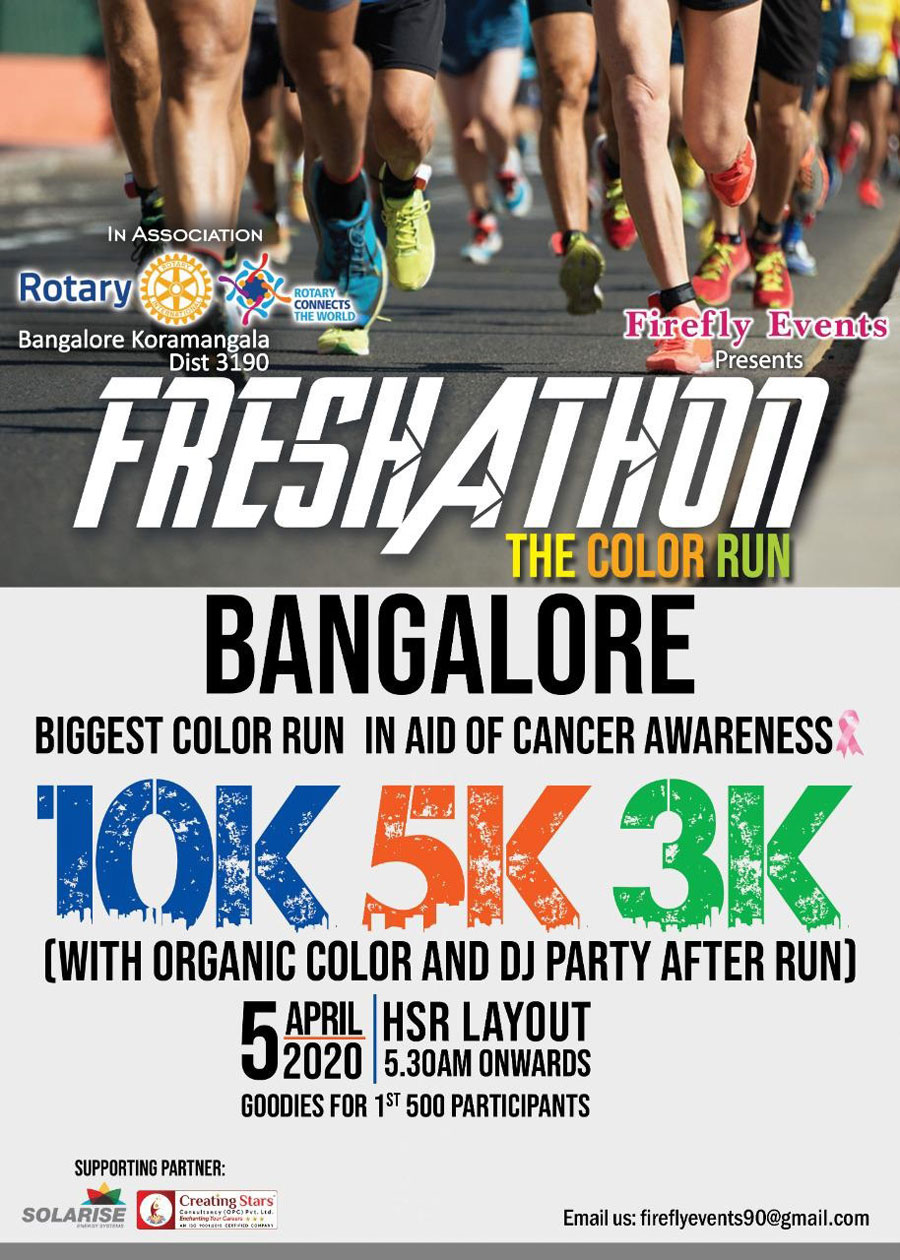 Freshathon brings you the Bangalores biggest color run in Bangalore In Association with Rotary in the aid of Cancer Awareness… After organizing the past two events Freshathon brings a themed event run in order to create awareness and raise funds…
The Run is focused mainly to bring about happiness and a healthy lifestyle, to induce a positive outlook towards life and celebrate the culture.
The event will add to a celebratory mood with Music band, Dj, Zumba, organic Colors, lip-smacking food and lots of entertainment.
The event is being organized on 5th April in the Aid of Cancer Awareness. The event is been designed as 3K, 5k & 10th
Categories: 3K, 5K, 10K and T-Shirts for everyone
X-Factor: T-Shirt, Breakfast, Medal, bibs & Certificate for everyone
Note:
The last date to register for the event is April 5th
Start and end up point will be at HSR layout
There is no on-spot registration. You have to register online only.
There are no age categories for this running event. Except for kids above 8 years only.
The collection of the bibs & T-shirts will be done on the day of the running day.
Volunteers will be there to guide you throughout the Route
What do you get in the registration kit:
t-Shirts will be provided

bib for all participants.

Goodies for 1st 500 participants

3d medal for all participants.

unlimited breakfast for everyone (hot and nutritious breakfast).

warm-up & Zumba session sharp at 6.15 am

cool down session post-run.

participation will be provided

first aid and on the route, ambulance support will be provided.

media coverage.

the participant is requested to assemble by 5.30 am

water station will be provided

changing room for men and women's

car parking will be available

security will be provided
Name: Fatima
Phone: +91 99454 99987
Email: [email protected]