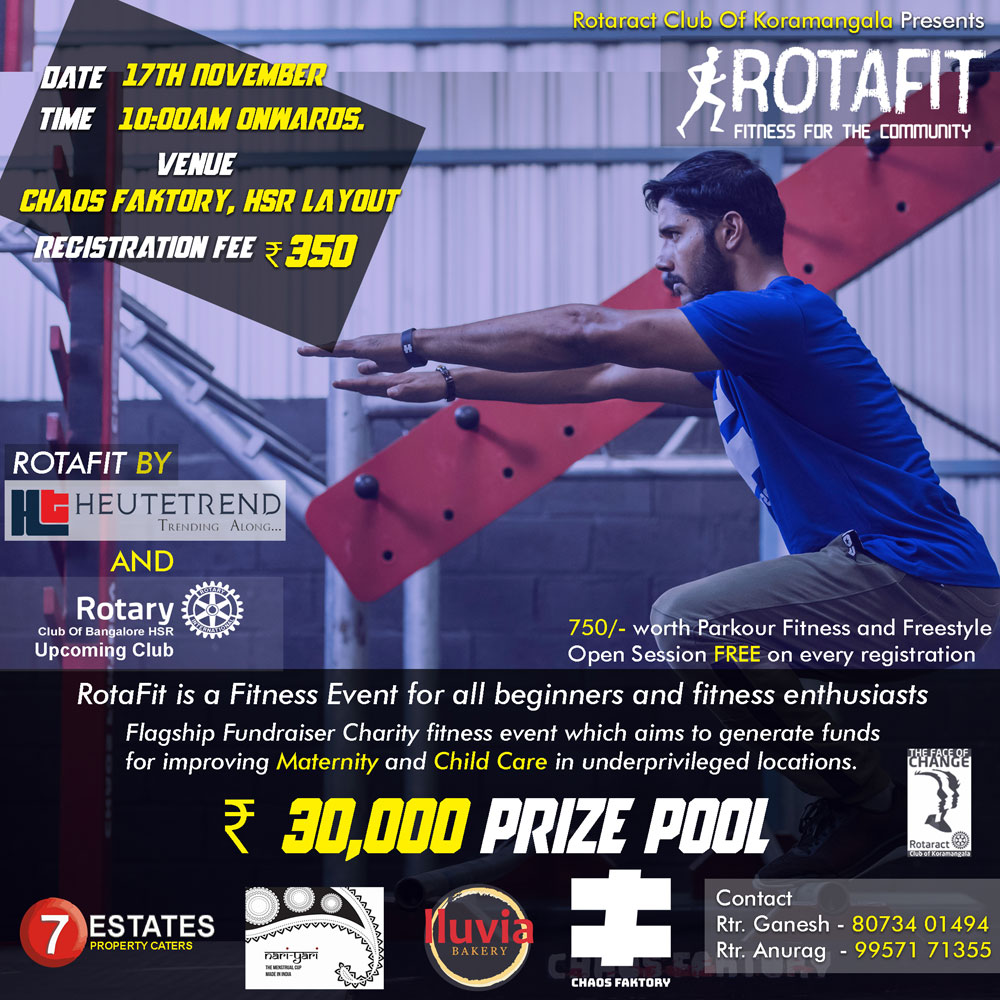 Rotaract Club of Koramangala p̾ r̾ o̾ u̾ d̾ l̾ y̾ ̾ p̾ r̾ e̾ s̾ e̾ n̾ t̾ s̾
ROTAFIT
Fitness For The Community!
Supporters - Heutetrend & Chaos Faktory
RotaFit is a Fitness Event for everyone from beginners to fitness enthusiasts.
Ever failed at maintaining your Fitness Resolutions? 😬 🙈 Now's your chance to succeed!!🕺🏻
A Fundraiser Charity Fitness Event which aims to generate funds for improving Maternity and Child Care in underprivileged locations. 👩‍👧‍👧🏥
Event Date 🗓 - 17th November
Event Time ⏳ - 10:00 am onwards.
Location ⛳ - Chaos Faktory, HSR Layout
Category: Male & Female 🧑🏻👩🏻
Registration details : 👇🏻
Individual 🎟 - ₹350/- (which includes ₹750/- worth Parkour Fitness & Freestyle Open Session free per registration!) 💥
Winners will take home attractive cash prize 🤑💰 - ₹30,000 Prize Pool.🎖
❛ Each new day is a new opportunity to improve yourself. Take it and make the most of it ❜
All participants will be invited to join for the cause from funds collected 🤩😌
Feel free to call for more details ☎:
Rtr. Ganesh- +91 88841 17419 / +91 80734 01494
Rtr. Anurag- +91 99571 71355
Email: [email protected]
Thank You!!
Our Partners : 😇🤝🏻
🔸 Upcoming Rotary Bangalore HSR
🔹 7 estates - https://7estates.in/
🔸 Nari-yari - http://nariyari.in/
🔹 lluviabakery - http://www.lluviabakery.com/
ABOUT THE SUPPORTERS
Venue Partner : Chaos Faktory
Website : https://www.chaosfaktory.com/
About Us : Chaos Faktory™ is specialized in the art of both 'fight and flight', each demanding a set of skills which is a mix of Parkour, Freerunning, Martial Arts, Gymnastics and Calisthenics. To master these skills, one must push the physical limits as well as the mental barriers. Our elite trainers come from various backgrounds like Martial Arts, Gymnastics, Breakdancing, Stunt Choreography. We have represented India in national and international competitions. Chaos Faktory is the first Indian team to be affiliated to World Parkour and Freerunning Federation. We specialize in group training, personal training, product launches, shows, commercials, movie shoots and film fight/stunt choreography. We currently operate out of Bangalore.
Title Sponsor : Heutetrend Pvt. ltd.
Website : http://heutetrend.com/
About Us : We are Group of Enthusiasts clustered to achieve our common goals to be identified as the most trustworthy corporate. With our PASSION and DEDICATION, our team in Bangalore and Chennai has managed to gain the confidence of some of the renowned corporate and leading brands to expedite their requirements. Started with a humble beginning,The need of hour realized by the world is initiated by HT to make this gentle start . Not just being In business to make turnovers, but to contribute our part to the best your brand deserves to be embarked. Our team has carefully selected few of the lines that would do justice to the cause , by identifying the products that would contribute to safe living world with ECO Friendly Products. Our team of experts will provide you with options that will reach the desired intended audience in the most effective way. We are able to embark ourselves as a reliable ground for making available to you, the high quality and diverse range of products which include, Travel goods, lifestyle products, corporate branding concepts on Eco Friendly Basis.