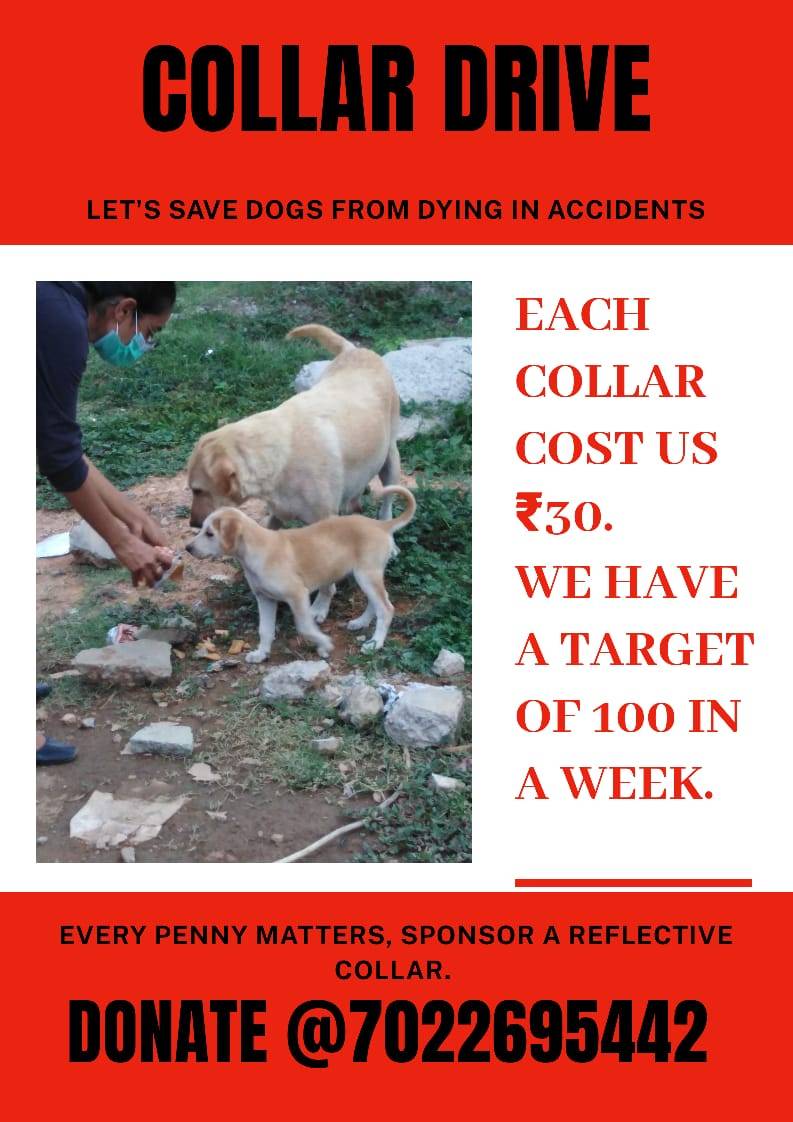 Save the Street Dogs
We at Janani… Jeevan ka Aadhar are running a campaign to tie reflective collars for street dogs.
How does it helps?
At night when car / bike headlights fall on it glows, the driver can see reflection and change the direction and on blowing horns dogs will move aside.

Reduces Hit and run cases as other passing by vehicles can see collar reflection and rush the injured to hospital.
A small gesture of donation by you can help us save a life.
Please do contact us @7022695442 or dm @jananingo for Volunteering.
Please do donate.
Thank you
Organiser details
Janani.. Jeevan Ka Aadhar is a Non-governmental Organisation started on 12th May, 2019.
Our motto is healthy menstruation for all and eradicating period poverty. In a year we have educated more than 10000 women and young girls about Menstrual health and sustainable menstruation including urban and rural areas of Karnataka.
We have successfully helped 1000+ women to switch towards sustainable means of menstruation and improve their periods hygiene methods. We educate through webinar, seminars, awareness sessions, campaigns, posters .
During Pandemic Covid-19 outbreak through our campaign Donate a pad we successfully donated cloth pads, sanitary napkins to daily wage women workers, nurses, doctors, ASHA workers, Pourkarmikas and rural women in Lakinahalli Village, Doddabalapur village,Doddagattamadagu, Baypnahalli village, Construction sites in Hulimavu, Bangalore, Befur ward,General Hospital , Community health centres. We believe access to menstrual hygiene products is right to women.
We also ran a campaign Feed The Voiceless through which we have fed 50+dogs for the 3-months Lockdown starting from march 22nd and helped them survive the Pandemic.
We believe in empowering women health and hygiene.